Women who pose for art students
---
The woman at JJ School of Arts says they get a maximum of Rs 1,000 per sitting for nude portraits. Express AS THE lunch break at JJ School of Art ends, a 40-year-old woman, addressed as 'amma' by students, is called for the next class. The woman is one of the few who poses for students at the fine arts college, including for nude portraits. It was after her husband passed away when she was barely a tee…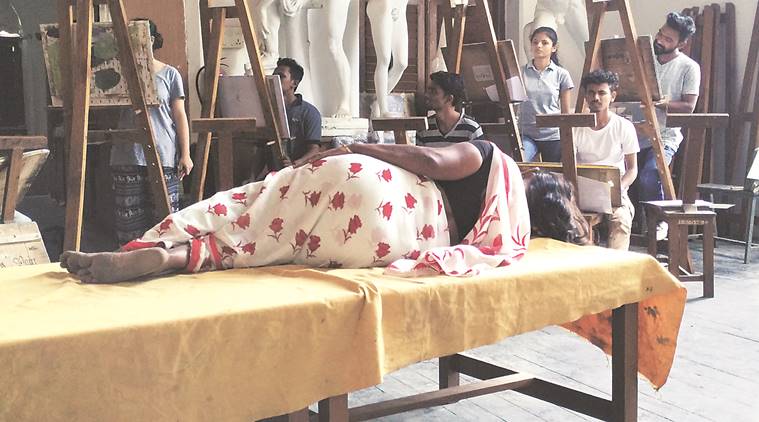 The woman at JJ School of Arts says they get a maximum of Rs 1,000 per sitting for nude portraits. Express
AS THE lunch break at JJ School of Art ends, a 40-year-old woman, addressed as 'amma' by students, is called for the next class. The woman is one of the few who poses for students at the fine arts college, including for nude portraits.
It was after her husband passed away when she was barely a teenager that the woman began looking for a job. "Till then, I had no idea where the money was coming from or what options I had to earn a living. Now, I realise maybe I could have worked at a hospital as a helper. But, then I also had no documents or access to a job. An aunt had told me that she worked at this institute and that I could join her. I came looking for her once at the campus and was shocked to see her posing nude in a classroom full of boys and girls," she says.
Her aunt then explained to her what the work was and how it was nothing to be ashamed of. "She told me that it was only for an academic purpose. Without us, these students would not have any way to learn an important part of their syllabus," she says. The woman posed for the class on the same day and has been posing at many city colleges since. "It was not easy initially. It would be awkward to sit naked in front of so many students. Once the inhibitions went down, the physical strain of standing or sitting in one position for many hours at a stretch was a challenge too."
"It is not easy to sit in one place without getting distracted or moving too much. One session usually stretches to five hours a day for a week," she says.
Along with the woman, her sister and two teenaged nieces too have been posing for students. They are permitted to take breaks in between sessions but most say they have accustomed themselves to not take too many breaks to ensure students do not get distracted.
"Most of the people who pose for us have been coming here for many years. One of them is a 80-year-old man who has posed for many decades for us. For those posing in nude, we ensure complete privacy. Many of them probably would get a job elsewhere, but have become attached with the students and comfortable even when having to pose nude," said a staffer at the college.
The woman says while the renumeration for their work was as low as Rs 50 till over a year ago, it has now increased to Rs 400, with the maximum of Rs 1,000 per sitting for nude portraits. "We along with students sat on a strike to demand better pay over a year ago. The money is only for a few days of the month. We hope the authorities can include a fixed pay. When there is vacation for the students, we do not earn at all. So m…